Regular price
Sale price
€69,95 EUR
Unit price
per
At My Own filo we believe in embracing all facets of the female body and promoting wellness in medically proven ways. That's why we proudly present our latest creation: the Sunflower, a versatile tool that serves not only for medical purposes, but also for exploring and loving your own body.
My Own Filo invites all women to discover this revolutionary tool and experience how it can contribute to a healthier, happier and more fullfilling life. With the Sunflower, you're ready to embrace your body and train your intimate well-being in a way that really delivers results.
Choose health, choose happiness, choose the Sunflower from My Own Filo. Discover yourself today.
Product details

Stimulate the external erogenous zones with one of 10 vibrating- suction modes.

High grade eco-friendly silicone
Easy to use, soft and friendly material
10 vibrating and suction modes
Item size: 6,6 x 5,9 x 5,9 cm
Product weight: 113 grams
Waterproof level: IPX7
Battery: 300 mAh / DC5V
Noice level: ≦45db
Charging time: 75 minutes
Using time: 90 minutes
Power supply: magnetic charging
Tone: purple

10005
8785281021457
Made in PRC

Shipping and returns

Free shipping for orders over 50 euro in the Netherlands. Rates for other countries are calculated in the check-out.

Variable delivery time based on country. In the Netherlands next day delivery when ordered before 8pm.
View full details
Self love in a powerful form
Solo sex with the Sunflower is not just an activity; it is an act of self-love and self-care. It allows you to create a deeper connection with your body, allowing you to appreciate and respect yourself in a whole new way.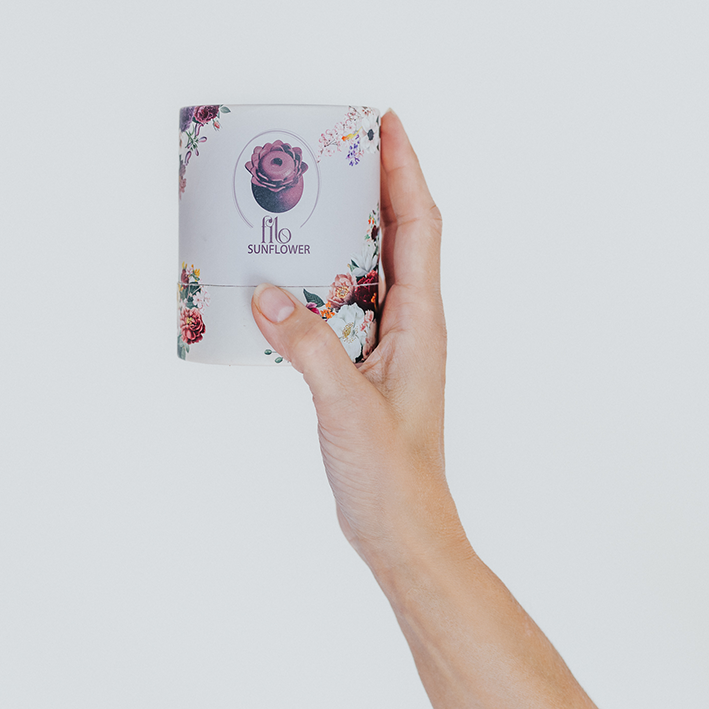 Improved night's sleep
Did you know that an orgasm stimulates the production of the prolactin hormone? This hormone is known to make you sleepy, which means that the Sunflower not only brings pleasure, but also ensures a deeper, more restful sleep.
Perfect for the shower
The tool is waterproof so you can also use it in the shower and in bath. Give yourself or your partner a surprising massage with this unique Sunflower vibrator and suction tool.
Frequently asked questions
1.
Are the Pleasure tools packaged discreetly?
At Filo we want to be open in the use of Pleasure tools. It is no longer necessary to hide Pleasure tools, that is the message we want to give. However, the shipping box in which you receive your package is made of brown cardboard and the Filo company name is not visible.
2.
Can you exchange the vibrator?
For more information about exchanges, see our Shipping & Returns page.
3.
Are the Pleasure tools also available in other colors?
The colors shown on our website are the colors that are available.
4.
What material are the Pleasure tools made of?
Our Pleasure tools are made of sustainable material and safe silicone. They feel soft and comfortable.
See All
Customer Reviews
06/02/2023
Anonymous

Netherlands
I recommend this product
Very nice,
Very good! I would have give 5 points, but it makes a little bit more noise than I hoped for..
01/04/2023
Anonymous

Netherlands
I recommend this product
Blossoming experience!
It was a mind-blowing experience!
12/29/2022
Yvonne v.

Netherlands
I recommend this product
The perfect gift for a lady !
I bought it as a gift for a friend and she was very happy with it. At least, she didn't gave it back to me and has a blush on her cheecks everytime I see her